This illustration (from Noback CR: The Human Nervous System, McGraw-Hill, Inc., 1967) illustrates the human subarachnoid space surrounding the brain and spinal cord. 60% of spinal fluid is produced within the brain and 40% from the spinal subarachnoid space. It flows, as shown, and is absorbed by the venous arachnoid granulations. This spinal fluid is produced at the rate of 0.35cc/min, or 500-750cc/day. Turnover rate is 3-5 times/day. A normal adult has a ventricular volume of about 30cc and about 100+cc in the surrounding subarachnoid space. The subarachnoid space serves to be a hydraulic cushion for the floating brain, a source of nutrition as well neurotransmitters.
This space is the most
fragile and sensitive environment in the body.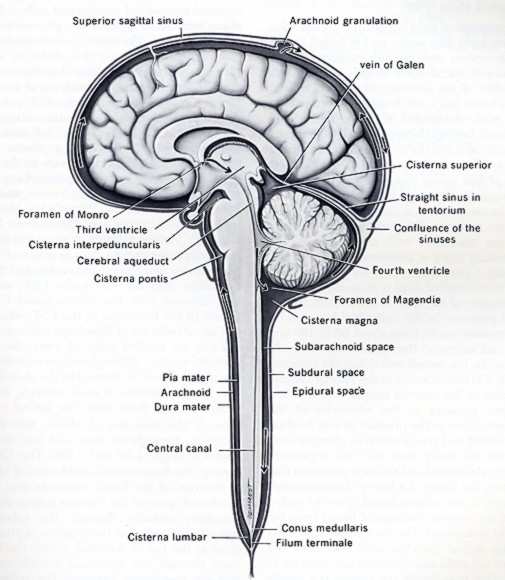 When the subarachnoid space is subject to insult or inflammatory change damage and scarring occur. One of the primary difficulties in addressing the subject of neuropathologic change, particularly that of adhesive arachnoiditis is the great amount of confusion regarding nomenclature. Adhesive arachnoiditis is an advanced form of arachnoiditis and is most often confused with the latter. Some of the other terms by adhesive arachnoiditis has been referred to have been:
Serosa Circumscripta Spinalis
Intraspinal Granulomatosis
Obliterative Arachnoiditis
Chronic Arachnoiditis
Spinal Meningitis
Chronic Spinal Meningitis
Chemical Meningitis
Sterile Meningitis
Granulomatous Meningitis