Review of surgical mesh procedure a 'great first step'
Cherie Howie
5:00 AM Sunday May 10, 2015
ACC inquiry recommends monitoring and registry of surgeries.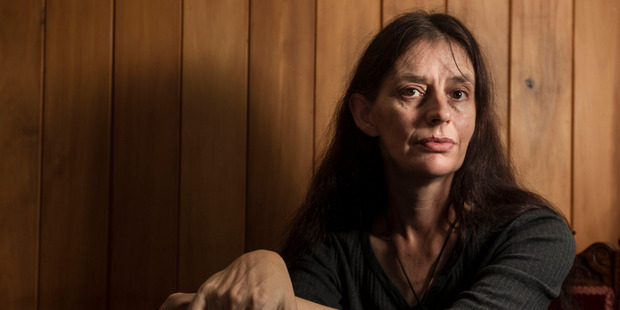 Photo / Michael Craig
Teresa Wine can no longer work and often has to walk with a crutch, since her mesh surgery. Photo / Michael Craig
A review of injury claims relating to surgical mesh treatment has suggested registering all women who undergo the procedure so any complications can be tracked.
The Accident Compensation Corporation review has suggested "topics of discussion for the health sector", which include monitoring future mesh recipients and carrying out a full evidence-based review.
ACC also indicated it would send mesh data to Medsafe to increase awareness of claims, and look at more specific data for surgical mesh claims.
In the past 2½ years the Herald on Sunday has documented horror stories of Kiwis whose quality of life has been shattered after having surgically fitted mesh.
Polypropylene mesh was designed in the 1950s to treat hernias, but is now also used for organ prolapse.
Campaigners for an independent inquiry into the use of the controversial medical device have welcomed the ACC review, which came after Carmel Berry and Charlotte Korte petitioned the health select committee last year.
ACC declined to comment but Berry, who founded the Mesh Down Under support group, said the review would help the fight for an inquiry.
Gaps still needed filling — such as a lack of information on the number of surgical mesh devices used in New Zealand.
More than 56,000 were sold here between January 2005 and October last year, but district health boards could not confirm numbers used, she said.
The ACC review covered 466 treatment injury claims relating to the use of surgical mesh between July 2005 and June last year.
Women's Health Action policy analyst Dr Sandy Hall said the review was a "great first step".
A robust approval process for mesh devices and a register of surgeons trained in implanting and removing mesh was also needed, she said.
Green Party health spokesman Kevin Hague said more information was needed. "We are concerned about what has happened when concerns about this have been raised.
"Operator error was the advice that Medsafe gave [then health minister Tony] Ryall. The claim by petitioners is that the products have an inherent danger."
Medsafe group manager Dr Stewart Jessamine said all mesh-related complications were recorded, reviewed and monitored.
International research into the rate of adverse events for surgical mesh would be reviewed when available. A University of Aberdeen study was being closely watched.
"The findings from this study will be used as a basis for any potential review or action by Medsafe on the safety of surgical mesh."
Medsafe already shared information with ACC about surgical mesh complications and the ministry was not convinced a New Zealand register would increase safety, Jessamine said. "The total number of people exposed to surgical mesh is too small, and the number of different types and brands used for different operations means a register would not be able to provide data to conclusively determine whether one type or use of surgical mesh poses more risks than another."
Medsafe's position remained that the use of mesh outweighed the risks, he said.
Crippled after operation
Teresa Wine was told her operation would be "life changing". It was, but not for the better.
The 45-year-old former security guard, who used to look after the All Blacks and the Breakers sports stars, had surgical mesh implanted following a hysterectomy and bowel repair two years ago.
"I went in for a simple operation and I came out crippled."
Wine, a solo mother of three, had to quit her job because the mesh left her with pain, fatigue and leg spasms.
"I really enjoyed the job and tried to go back to work last year but only lasted one day, I just couldn't do it," she said.
"I used to like fishing and gardening but I now can't do either because of the pain. It is so bad that I have to have a lie down after I do the dishes."
She has only been able to walk since September and needs a crutch because she falls so often. "I'm 45, I'm not supposed to be like this. They shouldn't be allowed to put this crap in."
Wine now faces an agonising wait for a further operation to have the mesh removed.
- Herald on Sunday
http://www.nzherald....jectid=11446076
Related
http://www.nzherald....jectid=11315047
http://www.nzherald....jectid=11286527
http://www.nzherald....jectid=11286418
http://www.nzherald....jectid=11261221
And there are a number of topics/posts within this forum on the same issue.