ACC fraud doctor named in court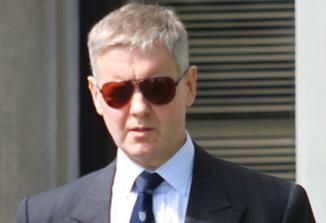 Christchurch GP earned
$

750,000
for compo assessment work but falsely claimed further $18,300 for expenses
Dr Jonathan Wright was sentenced in the Christchurch District Court to 150 hours of community work.
A well-paid doctor has been sentenced in court for attempting to squeeze a little more money out of ACC.
Dr Jonathan Wright had legitimately earned $750,000 from ACC for his work travelling New Zealand doing patient assessments.
But he still felt the need to fiddle the system and inflate his travel expenses to earn a few more thousand dollars fraudulently.
Today the married father-of-three can be identified for the first time, after a judge's name suppression order expired.
Judge David Holderness said there had been a "very serious breach of trust" for a "professional person of significant standing".
But in sentencing Dr Wright to 150 hours of community, he also granted interim name suppression after his leading defence lawyer, Jonathan Eaton, argued that his daughter was unaware of her father's white-collar crimes.
And since she was about to sit her school exams, hearing the shocking news would distract her from her important studies.
The judge agreed and protected his identity until today.
The Christchurch District Court heard in October how Dr Wright, who has worked as a doctor since 1983, had been working as a patient assessor for ACC in 2009 and 2010.
He travelled extensively throughout New Zealand and often stayed overnight at hotels.
The doctor was paid "handsomely" for his work - around $750,000 between April 2009 and June 2010.
It was not enough for Dr Wright, however, who would later claim to feel aggrieved at not being paid for some invoices he lodged.
He decided to squeeze the system for more, but it would be his downfall and end his lucrative contract.
Anomalies in his invoices soon flagged warning signs at ACC, and it investigated his claims.
It studied about 1000 invoices and found that he had altered flight costs, travel times, and even overnight stays to receive the $18,300 he wasn't entitled to.
When he was interviewed he freely admitted his offending, and his contract was torn up.
Crown prosecutor Anselm Williams said there had been a high level of trust that Dr Wright's invoices would be accurate and reasonable. He was not asked for receipts.
He pleaded guilty to two charges of obtaining pecuniary advantage by deception in August this year.
The cash had been paid back, which Judge Holderness took into account - despite the fact Dr Wright had earned such large amounts during that time.
The judge pointed out that Dr Wright had been well paid and his offending had not been motivated by need.
After he was sentenced, the convicted fraudster tried to leave court without being photographed.
The Medical Council of New Zealand will be notified of his conviction and the matter will be investigated.
Dr Wright got paid $7,200 a week gross, he must have been doing a good job \

/>/>/>/>/>/>/>/ Hard evidence that ACC Doctors are dishonest and greedy
CONSIDER YOURSELF REHABILITATED - DR WRIGHT HAHAHAHAHA
About time all ACC Doctors where put through Exit programs, to end the culture of shame

/>/>/>/>